hsiang February 17th, 2010
More than a month later I'm still dreaming about my trip to Hong Kong. I think I had such an amazing time there that I just had to write about it! Plus I'm just riding the adrenaline which comes with recently-rediscovering the joy of blogging.
I had only decided barely a week before flying that I would spend New Years' eve in Hong Kong. What a rushed decision! I could not believe myself clicking "Buy ticket" on the Cathay Pacific website. I can barely remember the blur on that 27th morning when I made my way to the airport (partly due to the fact that I had barely slept the night before, but mostly from the adrenaline).
I actually saw this with my own eyes: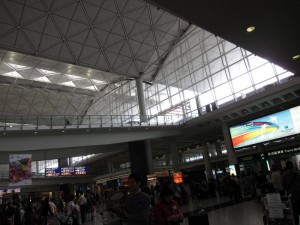 I know what you're thinking. "What's the matter with him?! It's an AIRPORT. Has he never flown before? It's just a photo of a walkway and a lot of people." Well yes, that's all true. And yes I've been to a number of different airports before. But I had seen this airport in a HK TVB series about a year ago – Triumph in the Skies!
Yes, it was based in HK and naturally there were many shots of the airport there 🙂 That was my first glimpse of TVB in real life!
And so began an interesting 5 days there. The MTR, sitting on one of those old red taxis, walking along the very busy streets! All that was lacking was a camera following me…
Queen's Cafe
HK at night
HK at night (2)
I don't have favourite moments, but I definitely enjoyed LKF and the egg tarts! If I ever get the HK secondment, I think that Tai Cheung egg tarts will soon become my daily staple!
It felt like such an amazing dream I didn't want to wake up from…can't believe it happened. Still can't believe it happened. Really.